Activity Design
Course Design at TRU-OL
There are typically two types of formats for OL courses:
Online paced courses where students study in cohort groups;
Web courses, which are independent study courses. Students enroll at different types and can take up to 30 weeks to complete the course.
These different formats have implications for activity design.
What does the online model look like?
The online course model is is centered in a collaborative, activity-based learning environment, where students are encouraged to interact with the tutor, with each other, with ideas and with the content. Thus, the activities in this online course model require ongoing asynchronous communication between learners, with moderation/facilitation provided by the online tutor (Open Learning Faculty Member).
Online paced cohort courses are based on activities and problems that increase the following:
Interaction and collaboration—learners are encouraged to interact with one another and their instructor to build their own personalized learning experience that is relevant. Web 2.0 tools, such as blogs, wikis, social networking sites and other tools are used where appropriate to increase and enhance this interaction.
Active learning— the focus is not on one way transmission of knowledge, but on the process of learning and knowledge-building through active engagement, problem-solving and critical analysis and application to authentic situations. The activities allow for flexible approaches to curriculum, for the addition of relevant resources and for the learners to build social learning networks and communities where the learning takes place.
Relevance —activities are designed to allow learners to apply what they are learning to solve real-world, authentic problems.
Ownership— Building on prior knowledge, learners are encouraged to bring their experiences and perspectives to the learning environment.
The role of the online tutor (OLFM) is not to directly "teach" but to guide the learners through the activities in the course. The role is often characterized as the "guide on the side" not the "sage on the stage"—the focus in not on content delivery, but on guiding the learning process.  Note also that the course writer/developer may not teach the course, so all of the activities and assessments must be clearly written to help the students and the OLFM.
What does the web model look like?
Many of our courses are offered in a continuous enrollment, self-paced format.  There can be 100+ students studying independently, and this offers unique challenges and opportunities.
Discussions may not be an option, as students enroll at different times, and there may not be many students in the course at the same.
Students can take up to 30 weeks to complete the course.  Other then that final due date, they can submit the assessments at any time.
The principles above of active learning, relevance, and ownership still apply.  Interaction and collaboration take on a different meaning, as course writers and designers look for ways other than discussion to facilitate engagement.
Consider other ways students can interact with the content, their context, and the support.  Below is one model that speaks to how students can engage in independent courses.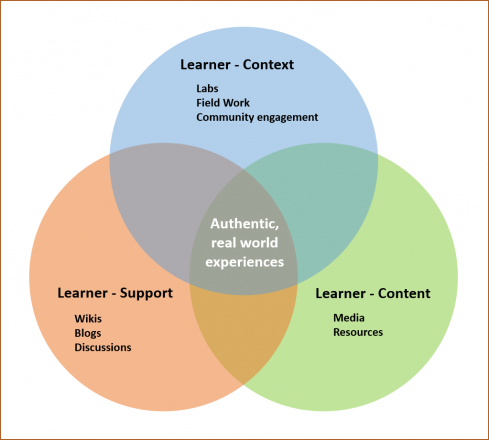 Context – Learners can interact through field trips and interviews with experts.
Content – Learners can engage with materials, as they go through interactive media/simulations, participate by making notes on articles, etc.
Support – Learners can interact with people outside of the course by posting on blogs, wikis, and other discussion forums.
Choosing Learning Activities
Learning activities are an important part of every lesson, as they allow students to engage with the material and apply their learning to various contexts.
A learning activity can take many forms, from reading a textbook, searching online for articles, watching a video interview, or participating in an interactive simulation.  The following are some examples of learning activities in Open Learning courses.
See the examples below, as well as the Media page for activity ideas.
Interviews
Are your students taking an independent study course?  Does this mean they can't interact with others?  No way!  Consider ways for students to involve their friends, family, and coworkers in their learning. Below is an example where students are asked to practice their active listening skills.  Note that some interviews need Ethics Approval, so be sure to check with your Instructional Designer about this process.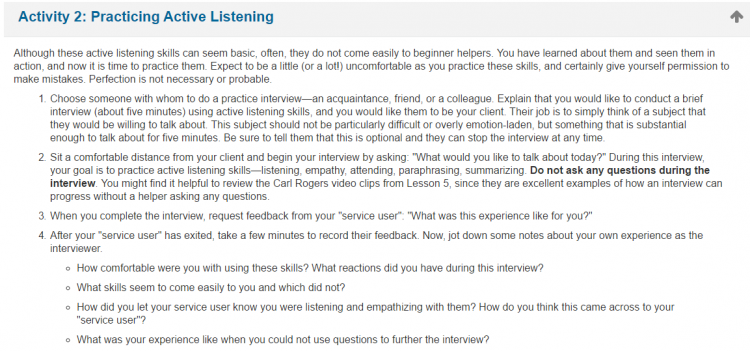 Webquest / Internet Search
A great way to engage students is to ask them to do their own searching online.  Below is an example that asks students to pay attention to Aboriginal News on the CBC website.

Reading Activities
After students read the selected text, we often ask them to answer questions or participate in activity in order to solidify and apply their learning.  Here is one example of a text reading and transferring the information to a graphic organizer.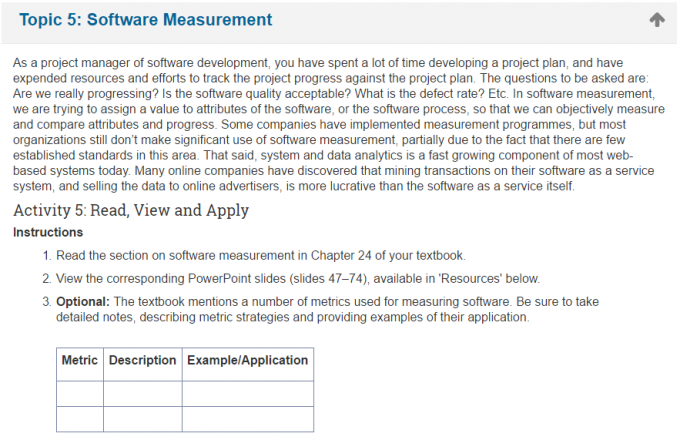 Videos
Here is an example where students watch a video and take a quick quiz to check their learning.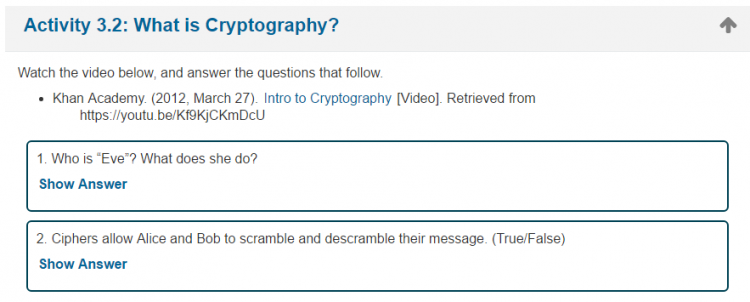 This second example shows the instructions for students to visit various websites and then to watch a news report.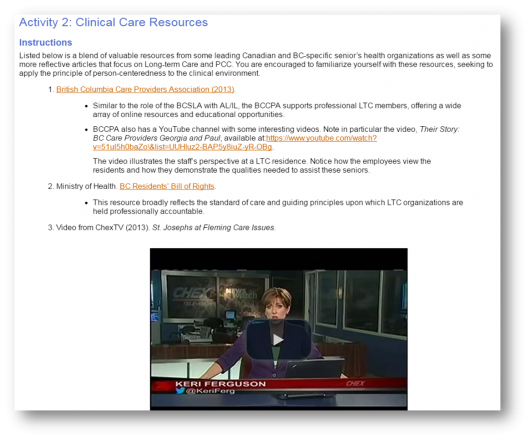 Case Studies
Stories are extremely useful in grabbing students attention, immersing them in a situation, and allowing them to apply course concepts to a specific example. Below is an example from a course on Healthy Aging.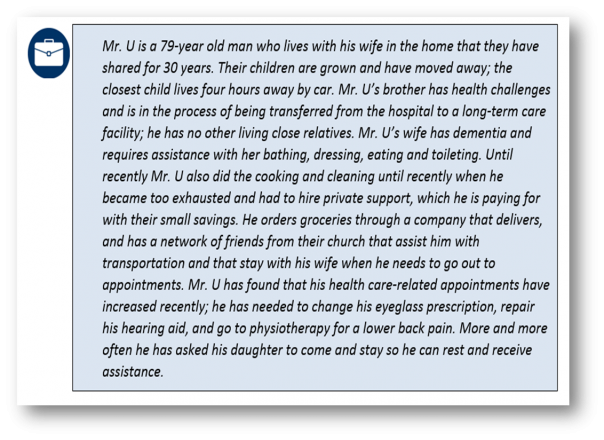 Journal / Log / Blog
Another engaging activity involves students responding to the course concepts in a more personal way.  Consider using a journal, a log of activities, or even an online blog for students to share their reflections and enhance their learning.
Creation
Consider asking students to create something in order to demonstrate their learning of the course outcomes.  Here is an example of showing the parts of the brain for a Psychology class.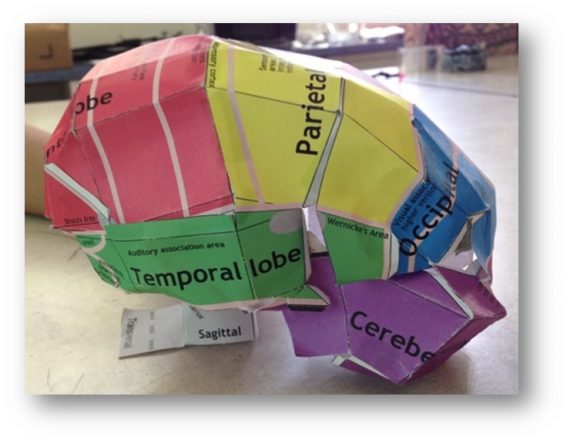 Role Play
Some courses lend themselves nicely to role plays in which students practice various skills they need to achieve the learning outcomes.  Below is one example from a French course is which student practice conversation skills.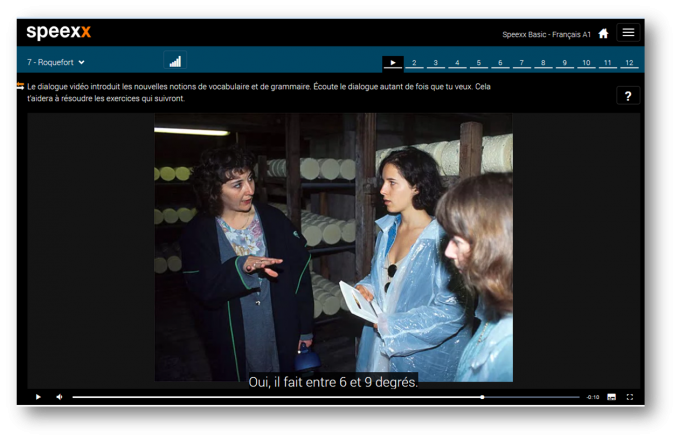 Games
There are several educational game formats that can be useful for students to practice and apply their learning. Matching, puzzles, flashcards, ordering activities – the possibilities are endless!  See the Media page for more examples.
Icebreakers
Don't forget the value of icebreakers!  Consider starting your course with an open discussion for students to share their thoughts and ideas.  Here are three examples of icebreakers for online classes.
GAIN/OFFER
Ask students to consider what one thing each hopes to gain from the course and what one thing each hopes to offer, then have the group get up to rove the room for five minutes gathering a sense of what others have come to gain and to offer. At the end of the course, this might become a way for individuals to measure what they've accomplished and gained overall. This can be adapted to 'hopes and concerns' about the unit/tutorial.  from http://www1.umn.edu/ohr/teachlearn/tutorials/active/strategies.html#ice
FINISH THE SENTENCE
The best job I ever had was…
The worst project I ever worked on was…
The riskiest thing I have ever done was…
ABOUT ME
Students will need to draw something [or upload a picture, etc.] that represents them:
Personal Achievement
Family
Interests/ hobbies
Personal ambition
For more interactive learning activities, see the Media page.
Online Learning Styles
The Illinois Online Network has developed educational resources to support online education. Their page on Learning Styles and the Online Environment provides a useful overview of how learning styles manifest themselves in the online environment. The page also provides links to quizzes for you to find out more about multiple intelligences and your own learning style.
For a more applied view of how students develop online learning strategies, read Roper's (2007) article How Students Develop Online Learning Skills. Roper highlights seven strategies of successful online learners. The Illinois Online Network has also developed a portrait of What Makes a Successful Online Student that you may find interesting.
For an examination of Kolb's learning styles in relation to online learning, read Richmond and Cumming's (2005) article Implementing Kolb's Learning Styles into Online Distance Education.  This article investigates Kolb's Experiential Learning theory, evaluates learning style research in online environments and how student learning styles can be considered in an online course.
Pedagogical Theories/Models
Various pedagogical theories/models have defined distance education curriculum development over the years. Dr. Terry Anderson, in a 2010 CIDER session entitled "Three Generations of Distance Education Pedagogy," talks about the challenges and opportunity afforded by the behavioural/cognitive, constructivist and connectivist models, with a focus on the emergent development of connectivism.
Collaborative Problem-Based Learning
In a problem-based approach, small groups work together to solve challenging, open-ended problems. This collaboration is facilitated by the instructor, whether online or face to face.
In "Authentic activity as a model for web-based learning," Reeves, Herrington and Oliver (2002) identify the following ten characteristics of authentic activities:
Authentic activities have real-world relevance
Activities match as nearly as possible the real-world tasks of professionals in practice rather than decontextualized or classroom-based tasks.
2.Authentic activities are ill-defined, requiring students to define the tasks and sub-tasks needed to complete the activity
Problems inherent in the activities are ill-defined and open to multiple interpretations rather than easily solved by the application of existing algorithms. Learners must identify their own unique tasks and sub-tasks in order to complete the major task.
3.Authentic activities comprise complex tasks to be investigated by students over a sustained period of time
Activities are completed in days, weeks and months rather than minutes or hours. They require significant investment of time and intellectual resources.
4. Authentic activities provide the opportunity for students to examine the task from different perspectives, using a variety of resources
The task affords learners the opportunity to examine the problem from a variety of theoretical and practical perspectives, rather than requiring a single perspective that learners must imitate to be successful. The use of a variety of resources rather than a limited number of preselected references requires students to detect relevant from irrelevant information.
Authentic activities provide the opportunity to collaborate
Collaboration is integral to the task, both within the course and the real world, rather than achievable by an individual learner.
6.Authentic activities provide the opportunity to reflect and involve students' beliefs and values
Activities require and enable learners to make choices and reflect on their learning both individually and socially.
7. Authentic activities can be integrated and applied across different subject areas and extend beyond domain-specific outcomes
Activities encourage interdisciplinary perspectives and enable learners to play diverse roles and build expertise that is applicable beyond a single well-defined field or domain.
8. Authentic activities are seamlessly integrated with assessment
Assessment of learning is seamlessly integrated with the major activity in a manner that reflects real world assessment, rather than separate artificial assessment tasks that are removed from the nature of the tasks inherent in completing the activity.
9. Authentic activities create polished products valuable in their own right rather than as preparation for something else
Activities culminate in the creation of a whole product rather than an exercise or sub-step in preparation for something else.
10. Authentic activities allow competing solutions and diversity of outcomes
Activities allow a range and diversity of outcomes open to multiple solutions of an original nature, rather than a single correct response obtained by the application of predefined rules and procedures.
(p. 3)
Problem-based learning is essentially a learner-centered approach with the instructor facilitating the process. Sometimes, the learners must search for the content while other times the information is provided. When creating a problem-based learning activity, it is important to build in the necessary support for the learners.
Here are some interesting articles about problem-based learning that you may find helpful:
What's your problem?: Increasing student motivation and quality of participation in discussions through problem-based learning (Gurrie, 2003).
Overview of problem-based learning: Definitions and distinctions (Savery, 2006)
Problem-based learning: A sceptic's diary (Piggot, 2005).
You can also find a lot of additional resources about problem based learning on the Problem-Based Learning Initiative website.
Dr. Peter Hsu has also developed seven modules about collaborative problem-based learning for online course developers. You may want to take the time to view these modules in preparation for developing your online course.
Inclusive Design
Inclusive design is defined by the University of Toronto's ATRC (Adaptive Technology Resource Centre) as "design that enables and supports the participation of individuals and groups representing the full range of human diversity" (ATRC, 2010).
The main principle of inclusive design is to create a more personalized learning environment. It means designing courses where learners have choices that will allow them to more easily access materials.
For TRU-OL, this means providing materials in a variety of formats, ensuring images and video have scripts and captions, ensuring resources follow accessibility standards, using flexible and adaptive assessment methods, and designing active learning environments.
FURTHER RESOURCES ON INCLUSIVE DESIGN
Adaptive Technology Resource Centre, University of Toronto
UNIVERSAL DESIGN FOR LEARNING
http://www.cast.org/research/udl/index.html